Got a job interview coming up? You might want to brush up on a few episodes of Girls first! There's a lot to be learned from this HBO show about four twentysomething friends trying to navigate their personal and professional lives in NYC, one mistake at a time.
Throughout the course of Girls' six years, these women went on some really bad job interviews. We're talking disastrous. From sarcastically criticizing the company's product (Shoshanna) to making a wildly inappropriate joke about date rape (Hannah), here's a look back at the worst interviews the ladies went on—and the lessons they taught us about how not to behave.
Don't crack off-color jokes.
After losing her internship in the series premiere, Hannah heads on a job interview at a trade journal. It's not the most glamorous publication, but this doesn't deter Hannah, who talks up her strengths and builds an instant rapport with her interviewer, Brian. That is, until she casually cracks wise that Brian's alma mater had high statistics for date rape—which lowered after he graduated. Yeah… these kinds of jokes are never okay to make in an interview setting (or otherwise!), no matter how friendly your interviewer seems. We like Brian's response, as he politely tells Hannah that this may not be the best environment for her and lets her know she definitely didn't get the job.
Don't lose your composure.
Recently downsized from her art gallery assistant gig, Marnie is determined to get a new front desk position in the same field. As she interviews with Patricia, the owner of another gallery, Marnie nails every aspect of her meeting. She's dressed the part, engages in small talk about the art scene in her hometown, and speaks about her past employment as "a great growth experience."
However, Patricia decides not to offer her the job because she doesn't see Marnie belonging at her gallery or anywhere in the art world. When she's rejected, Marnie's face says it all—she's crushed and ready to cry. Getting an immediate decline in an interview is never easy to accept, but the best thing to do is continue to be cordial to your interviewer and wrap it up quickly so you have a moment to be alone. That's when you can let the waterworks loose. Sorry, Marn.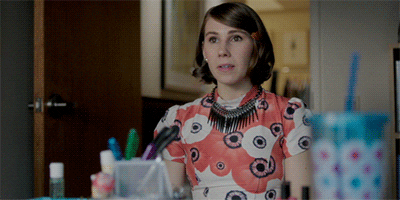 If you don't want the job, don't go on the interview.
At the start of season four, Shoshanna interviews at Ann Taylor LOFT for an unnamed position that includes duties like "implementing a cardigan story for spring" and "allocating trend jewelry." It's a dream come true for anyone who wants to get their feet wet in the fashion industry. Her interview ensemble is on point for the brand, she gets along great with her interviewer, and she even lands a job offer on the spot!
But then Shoshanna drops a huge bomb and the whole thing comes unraveling. Shosh considered this meeting to be a "trial interview" to get a feel for what's to come before going on an interview for a job she's actually passionate about. The interviewer is upset that Shoshanna wasted her time and rightly so. If you know you don't want the job you're interviewing for… don't agree to meet up for an interview. It's that simple.
Don't beg.
Shoshanna had several interviews in season four, including one at a posh firm that boasted Chelsea Clinton as an alum employee. And even though she's dressed in mock Chanel attire with her resume and portfolio at hand, Shoshanna's interviewer tells her upfront that she's not the right fit for the position.
Here's where Shoshanna should have politely listened, thanked her interviewer for taking the time to meet with her, and exited. Instead, Shosh tells her that she always fits in "very subtly" no matter what and begs the interviewer to tell her what's wrong with her. (Heads up to whippersnappers everywhere: don't ask this if you're not ready for the answer!) "You have an off-putting style," the interviewer honestly replies. Shoshanna retorts to her interviewer that the necklace she's wearing isn't flattering. Ouch, ouch, ouch.
Never criticize a brand's product.
It's another Shoshanna interview that spirals out of control, this time for a marketing role at Madame Tinsley's Instant Soup. She immediately lets her interviewer Scott know that she hates the name of the product and mocks his dream to start a company featuring a product that she considers to be "fancy Cup O' Noodles." And while Shoshanna's interview ends with Scott asking her out for a drink, yours would 100% end with being shown the door. No matter how much you may not like a brand's product, never criticize it during an interview. That's just poor taste.
Heather Taylor is a former entertainment writer turned brand mascot aficionado (and head writer) for Advertising Week's Icon Blog. She shares her thoughts on pop culture at HelloGiggles and has been published in Brit + Co, The Drum, and BettyConfidential. Chat with her about anything from SNL to the Pillsbury Doughboy on Twitter @howveryheather. GIFs highly encouraged.