By Amari Pollard
When writer's block gets the best of me, my first move is to pop a movie about a writer into the DVD player (people still watch those, right?) and let their literary passion wash over me. Add these films to your Netflix queue and get ready to be inspired!
Stuck in Love
This film follows a successful writer and his two kids as they come to terms with his divorce. Each family member is a writer at a different stage in his or her career, and as their literary voices gain traction or wane, they're forced to accept one another's successes. I love how heavily the characters' writing is driven by love: their love for words, each other, and love itself.
Becoming Jane

At some point in every writer's career, they've been told it's unrealistic to make a living off of words. Well, try being a woman in the 1800s, when it really seemed impossible! Despite society telling Jane Austen she was better off becoming a wealthy man's wife, she was determined to be independent and live by her pen. Instead of letting the injustices of life weigh her down, she funneled them into her writing—ultimately become one of the best-loved novelists in history.
Finding Forrester
An unlikely relationship develops between a reclusive novelist and a gifted student-athlete from the Bronx. Upon discovering the young athlete is an exceptional writer, the novelist takes him under his wing and their bond flourishes beyond the page. As writers, I think we all crave guidance from more experienced authors who can share their wisdom and mark up our work with red pens. Plus, seeing two people from completely different worlds come together over their love of writing is pretty beautiful.
Ruby Sparks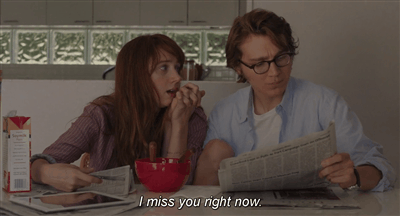 A young author struggling to outdo his previous novel can't seem to come up with one good idea. Then he pulls out an old typewriter that awakens a story within him. He creates a vibrant protagonist with flaming red hair who jumps off the page and becomes a "real girl," who he finds himself falling in love with. So often in our writing, we manifest these characters that feel so real to us, so much so that we can lose ourselves in them. This film blurs the lines between reality and fantasy, curiosity and obsession. It lets us know it's okay to experience life through your characters, but that it's also okay to just live.
All the President's Men

We live in a time of "fake news," where many people are weary of media outlets and journalists. But it's also a great time to be a writer, to dig deep and question everything. All the President's Men—based on the true story of the two reporters from the Washington Post who uncovered the Watergate scandal—is a story of exemplary investigative journalism and what it means to put everything on the line for the truth. Be warned: After you're finished this one, you're going to want to go chase down some leads.
Almost Famous
It's every aspiring writer's dream to land a writing assignment with her favorite magazine, right? After lying about his age, a high schooler lands a gig with Rolling Stone and gets to profile the up-and-coming band Stillwater as they tour the country. The film delves into music and writing, but more importantly, it explores the relationships people have with each other and what drives their decisions. Journalists have the remarkable responsibility of telling other people's stories, and this film reveals what happens when we get too close to them.
Amari D. Pollard is a Syracuse-based social media producer at Advance Media New York. She has written pieces for Parents, Popsugar, Elite Daily and Inside Lacrosse. She's a news junkie obsessed with her collection of glasses, vintage shopping, and brunching. Check out her work at amaridawn.com and follow her slightly above average life on Instagram and Twitter.