By Heather Taylor Today's pop culture landscape is full of editors who any EA can look up to and aspire to be like. Sorry, Miranda Priestly—while a million girls might kill for a job at Runway, we're dreaming of gigs alongside the ultimate editor #girlbosses at Scarlet, Snuff, and Empirical Press.

Jacqueline Carlyle | The Bold Type
Jacqueline may be the EIC of Scarlet magazine, but nobody shouts, "Gird your loins!" when she enters the room. Cool, calm, and collected, Jacqueline is approachable and encouraging on everything from feature articles to social media campaigns  She pushes her team to go above and beyond, but also works with them as a mentor, not a foe. Writer Jane once referred to Scarlet as "the big sister I never had" and we feel like that honor is all thanks to the support Jacqueline offers her team.

Dianna | Trainwreck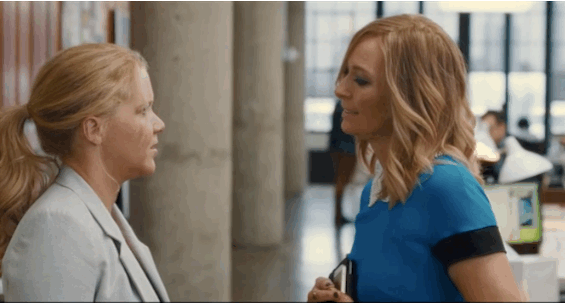 As the British editor of Snuff magazine—which caters to a strong-willed male audience—Dianna holds her own in the boys club with her no-nonsense attitude and frequent f-bomb dropping (more than the other editors in this roundup, tbh). Dianna likes to get her writers outside of their comfort zone and loves it even more when they express opposition to their topics. When staff writer Amy voices her disdain for sports, Dianna assigns her a profile on Dr. Aaron Connors, a sports doctor. Sorry Amy, but Dianna just wants to help you branch out and cover more—definitely good for a writer's portfolio.
Kelsey Peters | Younger
Working in publishing isn't easy, but if you want to make it to the top, we recommend taking a page out of Kelsey's book. Kelsey is passionate about her book editor gig at Empirical Press, staying up late to read through and edit manuscripts, and her passions pay off when she's given her own millennial imprint. Who else would she add to her team but her coworker besties? "I've got your back, girl!" is one of Kelsey's signature catchphrases and one that rings true throughout the series.
Heather Taylor is a former entertainment writer turned brand mascot aficionado (and head writer) for Advertising Week's Icon Blog. She shares her thoughts on pop culture at HelloGiggles and has been published in Brit + Co, The Drum, and BettyConfidential. Chat with her on Twitter @howveryheather.
Photo: Freeform/Phillippe Bosse