By Katelyn Chef
If you're like me, you were the kid all through grade school (and maybe even in college) struggling with the question "So, what do you want to be when you grow up?" I considered a lot of options, but I had never encountered anyone who worked in a field that I could imagine myself in. Luckily, I eventually found inspiration in some of my favorite TV shows. From the glossy halls of Mode magazine to the collegiate newsroom of The Yale Daily News, I've found stories where writing, creativity, hard work, and insightful pop culture references not only peaked my interest but sparked something inside me. Here, a few characters who motivate me to pursue my dream.
Betty Suarez

Ugly Betty was an overall game changer for me. It came on TV when I was in tenth grade and I was immediately enamored. The show had cute quips, glitz, city glamor, and spot-on pop culture references—but most importantly, the story boiled down to one girl's dream of wanting to become a writer/editor. The odds were never in Betty's favor, but that made the storyline more relatable and captivating. To this day, when someone tells me "No," I think about Betty's pluck and high spirits—and it gets me through.
Rory Gilmore

In college, I wrote for my university newspaper, The Dynamo. I prepped for the role following Rory's quest to become the next big journalist on Gilmore Girls. Her work ethic and drive to find the perfect news story made Rory stand out to me. Plus, she taught viewers that failure is inevitable and that's OK. You're bound to have setbacks throughout your career, but it's how you rise from them and carry on to your next big assignment that matters.
Carrie Bradshaw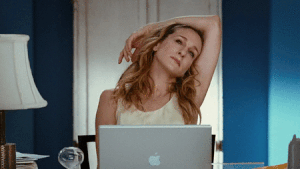 When it comes to this Sex and the City character, we often focus on her relationship with Mr. Big, her wardrobe, and yeah, her shoe collection. Obviously, those are all amazing, but it's Carrie's work that I'm most interested in. She's a source of encouragement for me when it comes to writing the truth from my own point of view—something I find difficult to master. Plus, we have to talk about the iconic opening credits when Carrie sees her column and byline picture on the side of the city bus—talk about career goals!
Kelsey Peters

Younger hasn't been around as long as the other shows on my list, but it's totally binge-worthy. I love watching Hilary Duff's character pursue a career in publishing, and her journey is full of relatable life moments. Plus, Kelsey is a modern definition of #bossbae.

Katelyn Chef is a writer, content creator, and media maker who has had her work featured on websites such as Martha Stewart Living, Teen Vogue, Town and Country, Domino, Brit +Co, and others. Aside from pursuing a writing career, Katelyn has a creative life and style-focused blog, The Yellow Spectacles. There, it is her hope to inspire others with her creative visions through one stylish pair of spectacles at a time. You can connect with Katelyn via Instagram and Twitter where she welcomes new career endeavors and creative collaborations.